VSR
Versatile Spectroradiometer
The Versatile Spectroradiometer (VSR) is a compact high sensitivity spectroradiometer which uses Fourier Transform Infrared (FT-IR) technology. Its high speed, yet robust operation allows its usage in different scenarios, from laboratory usage to airborne and heavy vibrations environments. The VSR can provide real-time high resolution spectral information on slow and fast occurring phenomenon, as well as perform material and target signature analysis.
Benefits
High sensitivity: More photon are captured by the VSR spectroradiometer compared to filter-based or dispersive instruments
High-speed, robust operations: The VSR sweeping mechanism operates in any direction and in presence of vibrations. Multiple software-selectable speeds are available.
Ultra-wide bandwidth: Output 1 features MWIR + LWIR channels using a combined InSb (1.7µm to 5µm) and MCT (5µm to 20µm)detector sandwich. Output 2 features an optional InGaAs detector for operation in the 0.9µm to 1.7µm SWIR range.
High-efficiency beamsplitter/combiner: Non-hygroscopic and optimized for the 1 to 20µm spectral range
High spectral resolution: The VSR instrument achieve very high resolution in a compact instrument while preserving sensitivity.
Flexible spectral resolution: Change the spectral resolution by software to meet your experiment requirements.
LN2-free operation: A high-emissivity thermo electric cooler-controlled reference is provided in input port 2, offering rock-solid stability without the need for cryogens.
Robust telescope options: The VSR™ field-of-view can be adjusted by an easy switch of telescopes. No alignment is required, thanks to collimated beam interfaces.
Unmatched usability and field support: The VSR™ provides extensive housekeeping data recording (temperatures and voltages) as well as built-in remote access via TCPIP. Just plug the VSR™ to the Internet and a LR Tech expert can perform health monitoring and obtain an accurate diagnostic in minutes.
User-friendly software: The EDGAR™ software provides radiance, irradiance or brightness temperature feedback in real-time to simplify data validation in the field. This fully scriptable software allows automating tasks and increase of productivity. Basic scripts are provided. EDGAR™ supports a variety of industry-standard formats, including Matlab™, NETCDF, 16-bit and 32-bit binary formats.
Features
Sealed interferometer module
LN2-free second input port cold source
MWIR (InSb) and LWIR(MCT) detectors
SWIR (InGaAs) detector (Optional)
Boresight video camera (Optional)
Spectral calibration
Radiometric calibration external sources (Optional)
Ruggedized field computer (Optional)
Tripod (Optional)
Edgar control, data acquisition and data processing software
Real-time radiometric calibration
Remote connection using TCP/IP
Transport cases
Specifications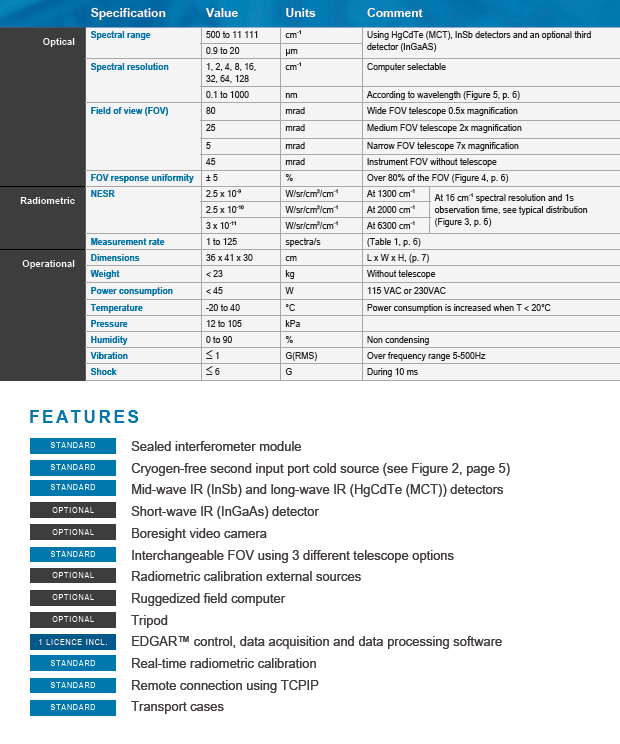 Brochures
Contact us to get more details